Pardon me for asking questions and not being certain. But more than once, I was impressed with the play of a female footballer but then began to wonder:
Let's take a tour
Flourish Sabastine, Nigeria
The person can definitely play. The goal in the U20 versus France was quality.
But was the scorer a woman? Let's take a look at a few pix: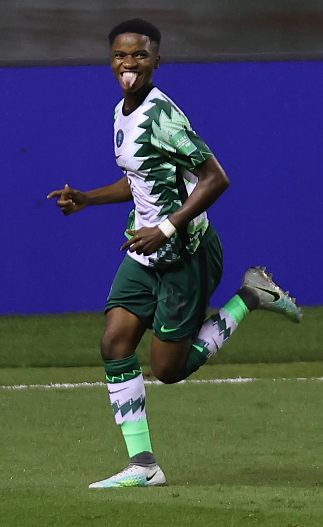 There's a little hint of cleavage around the chest, but that's about the only thing female I'm seeing here.
While we're on the topic of Nigerian "women": Esther Onyenezide
Esther plays on the Under-20 Nigerian team. She caught my attention due to this thunderous strike in the U-20 world cup:
Here's a photo of Esther along with her other "female" team-mates:
Not to make this a kangaroo court, I will say Esther does look more feminine here:
Barbra Banda, Zambia
Well, well, well, not only are "her" testosterone levels too high, states the article,
but Testosterone level is not the only criterion, but neither CAF nor officials from the Football Association of Zambia (FAZ) would confirm what those other criteria were.

The Atlantic
well, why not tell us? What is there to hide? Until we get more details on what the "other criteria" that led the African football association to keep Barbra from playing with the girls, let's check out a few pictures of Zambia's finest female footballer:
I'm a little confused right now
welp, I guess we can all do the Ketanji Brown thing and say that only a biologist should know what a woman is. Heck, it got her nominated and placed on the Supreme Court. But my personal opinion is…